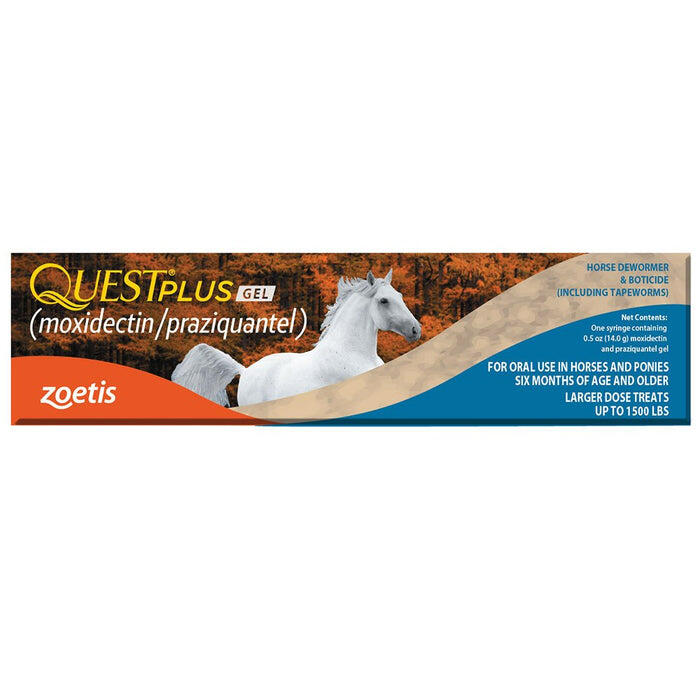 Zoetis Quest Plus Gel Equine Dewormer
Style #: 10004097
Check Availability In Stores
Ideal deworming choice for late fall
Contains an additional active ingredient — praziquantel — to specifically target tapeworms
Treats and controls the following  in a single dose:

Encysted small strongyles
Bots
Roundworms
Tapeworms
Large strongyles
Small strongyles
Pinworms
Hairworms
Stomach worms

Proven safe for use in a variety of horses
Treats encysted small strongyles in breeding mares and stallions
Do not use in foals less than 6 months of age
10004097
Fewer doses means less stress on you and your horse. With just a single dose, QUEST® PLUS Gel treat and control encysted small strongyles, bots and roundworms. QUEST PLUS is the ideal deworming choice for late fall as it contains an additional active ingredient — praziquantel — to specifically target tapeworms. The American Association of Equine Practitioners (AAEP) recommends tapeworm treatment in the late fall or winter after tapeworm transmission ends due to cold weather.
Compare that with fenbendazole – marketed as Panacur® Powerpac or Safe-Guard® Power-Dose® – which requires a double dose every day for five days and still doesn't treat bots. A recent study showed moxidectin, the active ingredient in QUEST PLUS, reduced fecal egg counts by 99.9% compared with fenbendazole, which was only 42% effective.
When parasites are overexposed to certain treatments, they can become resistant, leaving fewer treatment options. Small strongyles have been shown to have widespread resistance to fenbendazole, one of the oldest products on the market. Moxidectin, the active ingredient in QUEST and QUEST PLUS, is one of the newest active ingredients and continues to show superior efficacy.