Turnout & Winter Horse Blankets
Explore our selection of winter horse blankets for sale online at NRS, the #1 trusted source for all things equestrian. We have the best quality turnout blankets available including foal blankets and light to medium weight horse blankets. Order your next horse blanket from National Roper's Supply today.
When deciding on the right blanket there are a few general questions that need to be answered to make sure that you get the best fit and type so the blanket functions well for your horse.

WHAT SIZE IS RIGHT FOR MY HORSE?
To determine this, the easiest way is to have a cloth measuring tape or piece of string and a partner to hold one end for you. Starting in the middle of you horse's neck, where their neck ties into the chest, hold the tape there while your partner holds the other end across the point of the shoulder along the barrel of the horse to the edge of the horse's tail. Once you have the complete measurement, you havey our horse's size. Most blankets are measured in 2" or 3" increments, if your horse's size is in between the sizes, go to the larger one to make sure the fit will not be too tight.

TURNOUT OR STABLE BLANKET?
There are two basic types of blankets; turnout and stable; depending on the environment that your horse lives in, one may be a better 'fit' than the other. The difference between them is whether they are waterproof or not. A turnout blanket is treated on the outer shell to be water proof and will keep your horse snug and dry in rainy or snowy conditions. The stable is, as its name implies, mainly for the stabled horse, so it is not water proof and will not prevent water in its various forms from soaking in and getting to your horse.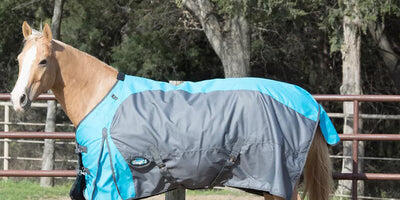 Washing Horse Blankets: How To Wash a Horse Blanket Guide
April 15, 2020
Are you wondering how to wash horse blankets? Then look no further! This horse blanket washing guide will help you clean your blankets like a pro.
Read More
NRS Horse Blanketing Guide & More
May 5, 2022
When the temperatures drop and winter starts to set in, horse owners are likely wondering, "Should I blanket my horse?" Sometimes horse blanketing guidelines can be confusing, but NRS is here to help
Read More
Get the Deals!
Sign up for our e-newsletter to get coupons and special discounts for NRS!
Follow us
Address 4650 S. U.S. Hwy
287, Decatur, TX 76234
Phone: 940-627-3949
Customer Service Hours
Mon-Fri: 8:00 AM-6:00 PM
Saturday: 9:00 AM-4:00 PM
Sunday: 12:30 PM-6:00 PM