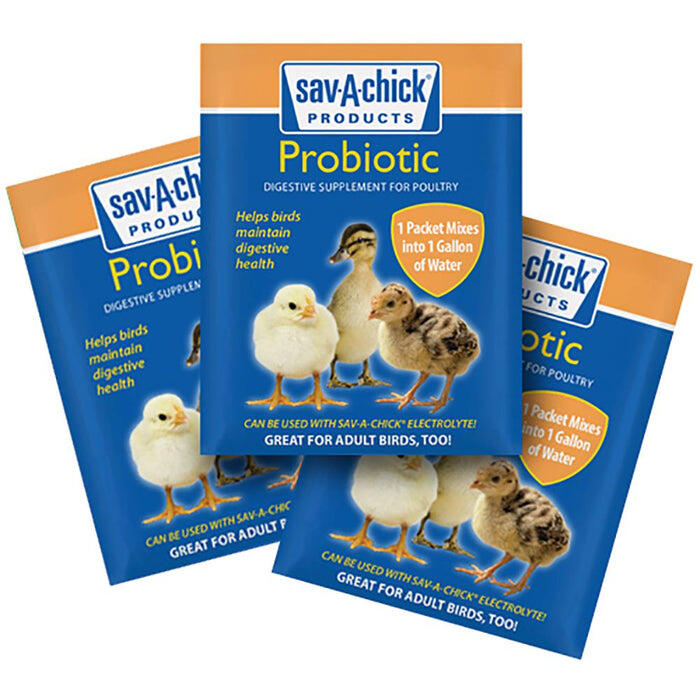 Sav-A-Chick Probiotic Supplement
Style #: 01-7403-0203
For birds of all ages
Poultry supplement for use in drinking water. Contains a source of live (viable) naturally occurring micro-organisms.
Use alone or with Sav-A-Chick® Electrolyte. Use for birds newly arrived, during periods of stress, and after antibiotic treatment.
Designed especially for small flocks.
Each convenient, pre-measured packet mixes into one gallon of drinking water.
Formulated specifically for poultry: chickens, ducks, turkeys, and other domestic poultry.
Suitable for chicks and adult birds.
Promotes digestive health by supporting a more diverse population of beneficial bacteria in the digestive tract.
 0.17oz Packet
01-7403-0203
Mixing & Feeding Directions:
Mix a single packet (approx. 0.17 ounces of powder) into one gallon of clean, cool water. Offer the mixed solution to birds newly arrived, during periods of stress, and after antibiotic treatment. If using with Sav-A-Chick Electrolyte, mix one packet of each product into the same gallon of water. Offer the mixed solution AND plain drinking water in a separate container. Important: Make fresh solution daily.
Guaranteed Analysis:
Bacillus subtilis, min  1.5 Billion CFU*/gram
Ingredients:
Maltodextrin, Bacillus subtilis fermentation product.