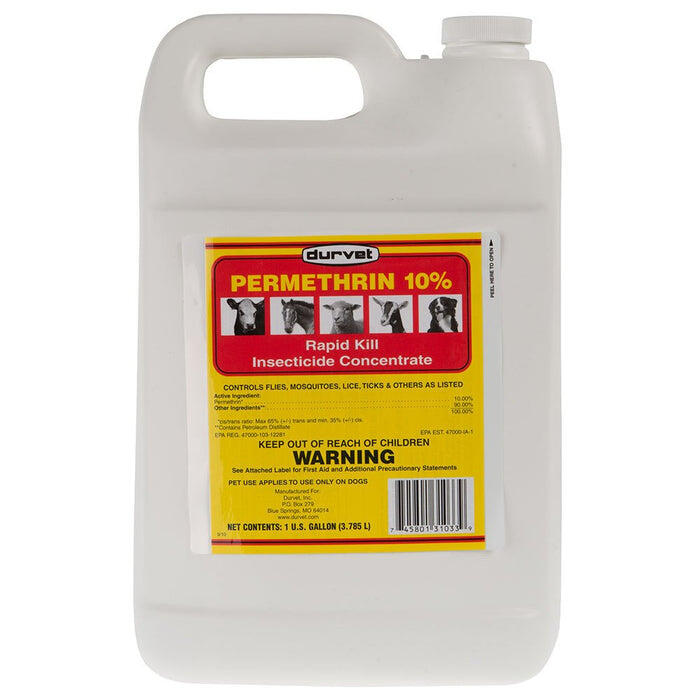 Permethrin 10% Concentrate Gallon
Free shipping not available on this item - Weight: [8.05 ] lbs
Style #: 003-1033
Check Availability In Stores
Durvet
Long-lasting livestock and premise spray
Provides knockdown, broad spectrum kill, and excellent residual activity for up to 28 days
For use on Dairy Cattle, Beef Cattle, Horses, Sheep, Goats, Dogs, Swine, Poultry, Livestock Premises and Homes
Kills darkling beetles, poultry lice, fowl mites, horn flies,house flies and face flies. Plus controls fleas, ticks, lice and mangemites
Permethrin is highly toxic to the insect with a very low toxicity to humans and animals
One gallon of Permethrin 10% makes approximately 100 gallons of ready-to-use product
Gallon
003-1033
INDICATIONS:
Durvet's Permethrin 10% is a long-lasting livestock and premise spraythat provides knockdown, broad spectrum kill, and excellent residualactivity for up to 28 days.
FOR USE ON:
Dairy Cattle, Beef Cattle, Horses, Sheep, Goats, Dogs, Swine, Poultry, Livestock Premises and Homes.
BENEFITS:
EFFECTIVE INSECT CONTROL ON ANIMALS - Permethrin 10% can be usedon dairy and beef cattle, sheep, goats, swine and poultry. Plus, it islabeled for effective control of insects on horses and dogs
INDOOR AND OUTDOOR PREMISE INSECT CONTROL - Use it in homes andnon-food areas of poultry houses, dairies, cattle barns, milkingparlors, horse barns, swine houses, warehouses, restaurants and kennels
BROAD SPECTRUM OF CONTROL - Kills darkling beetles, poultrylice, fowl mites, horn flies, house flies and face flies. Plus controlsfleas, ticks, lice and mange mites
SAFE - Permethrin is highly toxic to the insect with a very low toxicity to humans and animals
ECONOMICAL - One quart of Permethrin 10% makes approximately 25 gallons of ready-to-use product
CONVENIENT MIXING - Packaged in a squeeze-and-pour bottle
INGREDIENTS:
Permethrin .......................... 10.0%
Inert Ingredients ................. 90.0%
Total .................................... 100.0%
See packaging for specific directions.
Durvethas made the commitment to being your premier supplier of high qualityanimal health care products. And, they've taken that commitment one step farther. It has become their mission. They ensure their products and services result in Healthy Animals, Healthy Savings and Healthy Value.