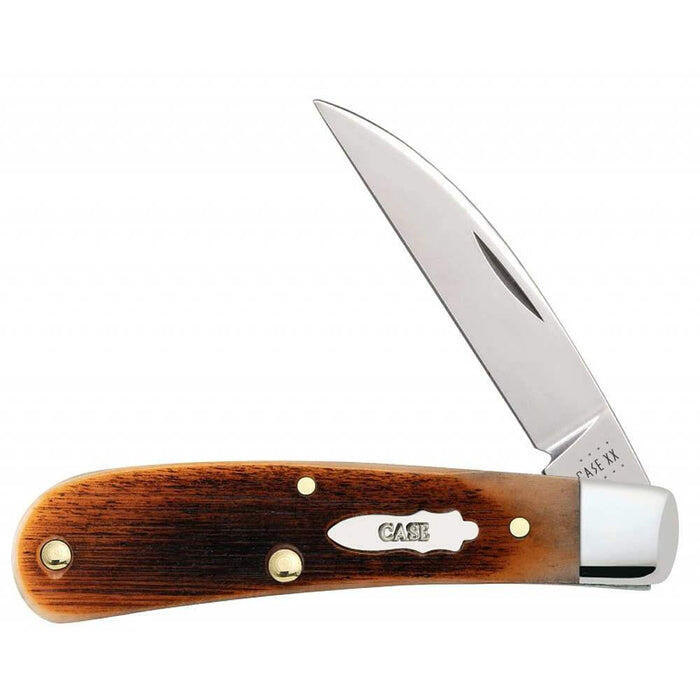 CASE XX Sawcut Jig Amber Bone - Sway Back CA17894
Free shipping not available on this item - Weight: [0.0 ] lbs
Style #: CA17894
Check Availability In Stores
Pattern:  Sway Back
Pattern Stamp: TB61117SS 
Handle Material:  Amber Bone
Handle Finish:  Sawcut Jig
Blade Type:  Wharncliffe
Blade Length(s):  2.8in
Lock Type:  Non-Locking (Slip Joint)
Blade Material:  Mirror-Polished
Closed Length:  3.19in
Weight:  1.5oz
Sheath:  Sold Separately
Made in Bradford, PA, USA from domestic and imported materials

Note: Because Case uses hand-crafting and natural materials your knife may not look exactly as depicted.

STYLE:     CA17894
 The Sway Back knife is inspired by English Jack knives from the 19th century. The elegant curve of the handle and Wharncliffe blade make this another Case-Bose success. The Wharncliffe blade makes for an excellent general purpose utility knife. From handymen requiring a quick and easy go to tool on the job to office staff opening up boxes, the Wharncliffe blade is the blade of choice. This blade is great for cutting and has a finer edge/point for increased control. It also excels in box-cutter type chores and is great for opening envelops.
This knife is constructed with Case Tru-Sharp  stainless steel which is a special high-carbon steel that helps the blades hold an edge longer than conventional steel. It also offers extraordinary blade strength and corrosion resistance. Comes conveniently packaged in a box. Made in Bradford, PA, USA from domestic and imported materials.
Amber Bone
The heart of the Case line lies within this classic bone handle, with rich amber and honey tones. The material is procured internationally, rendered from the hearty shin bone of Zebu cattle, a substance tough enough for the rigors of Case knife demands.
Wharncliffe
The Wharncliffe blade features a thick back for added strength, curving to a fine point that meets a straight-honed edge for extra control. This is a rugged, hard-working blade.
Note: Because Case uses hand-crafting and natural materials your knife may not look exactly as depicted. CA17894