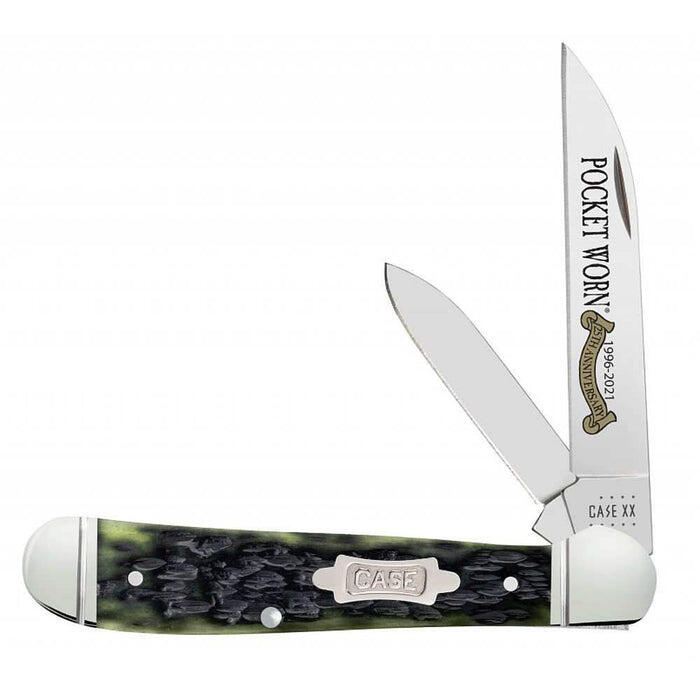 CASE XX Pocket Worn 25th Anniversary Olive Green Bone-Peach Seed Jig Copperhead CA38192
Style #: CA38192
Check Availability In Stores
Pattern:  Copperhead
Pattern Stamp:  6429W SS
Handle Material:  Pocket Worn Olive Green Bone
Handle Finish:  Jigged
Blade Type:  Clip and Pen
Blade Length(s):  3.05in, 2.25in
Lock Type:  Non-Locking (Slip Joint)
Blade Material:  Tru-Sharp Stainless
Blade Finish:  Mirror-polished
Closed Length:  3.88in
Weight:  3.8oz
Sheath: Sold Separately

Note: Because Case uses hand-crafting and natural materials your knife may not look exactly as depicted.

Made in Bradford, PA, USA from domestic and imported materials.
CA38192
 25 Years and Counting. Case knives have always been prized for their quality and detail, but when Case introduced the Pocket Worn finish in 1996, it raised the hand finishing process to a new level. Today your invited to celebrate the 25th anniversary of Pocket Worn Case knives with the new Olive Green Bone series. Eight patterns make up the entire set, available individually or as a commemorative Mint Set (38190) with specially decorated handles, blade serialization and more.
This particular Copperhead knife is CA38192 (Wharncliffe and Pen)
Wharncliffe
The Wharncliffe blade features a thick back for added strength, curving to a fine point that meets a straight-honed edge for extra control. This is a rugged, hard-working blade.
Pen
The Pen blade shape makes a great blade for light-duty work.
Note: Because Case uses hand-crafting and natural materials your knife may not look exactly as depicted.  Made in Bradford, PA, USA from domestic and imported materials.