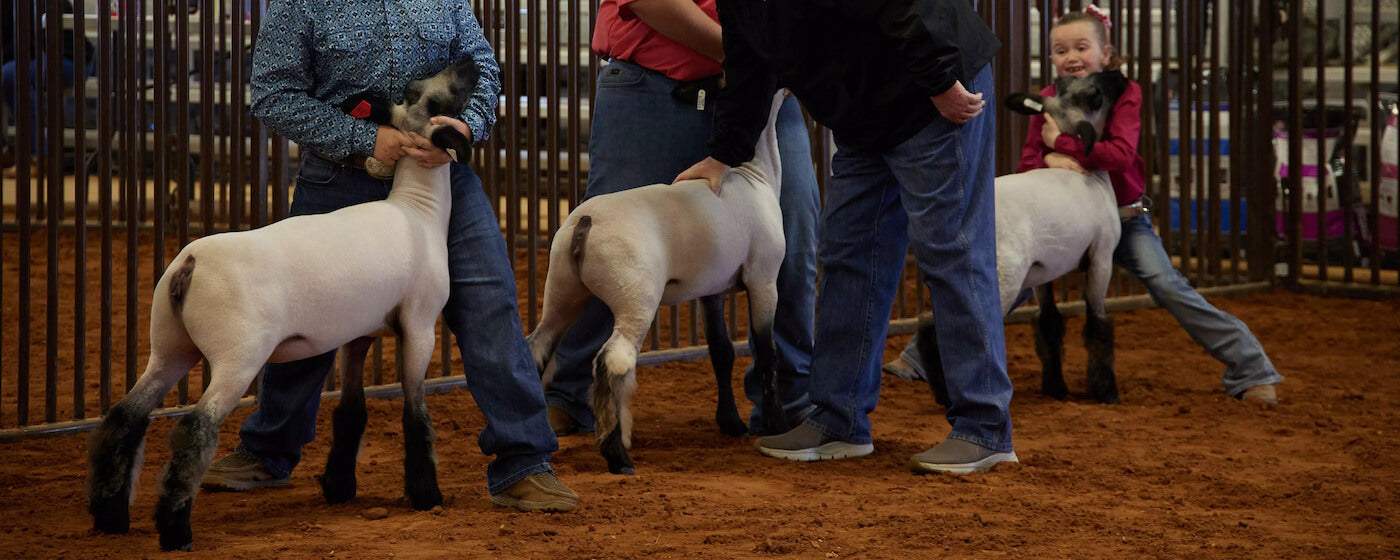 Showing Sheep + Goat Essentials: How To Prepare for 4-H Sheep and Goat Showing
Showing sheep or goats is a popular choice for 4-H participants. Both animals are small, meaningful livestock that are easy to work with and require a small amount of space. These qualities make sheep or goat showing an excellent choice for an animal project. This guide will go over the basics of preparing your sheep or goat for your next 4-H project and provide a list of must-have lamb and goat show supplies to help get your animal show-ready.
Sheep + Goat Showing Basics
Goats and sheep are born in the spring, so make sure that you have a plan for their home ahead of time. They will need a pen, dust-free bedding and a fenced area that will secure them and keep predators out while outdoors. You also need a rodent-proof container to store their feed.
Next, you'll need to review the rules for the 4-H goat show or sheep program you would like to participate in. It's important to research this before getting started so you are aware of rules, regulations and the timing of shows. We suggest working with a reputable breeder and they can help point you in the right direction and provide advice as needed.
A healthy animal is the most important part of showing sheep and goats, so working with a reputable veterinarian is essential. They will help ensure that your animal is thriving. Nutritious feed, a clean stall and regular exercise ensure that your animal is in top shape and ready for the show ring.
Nutrition and Feeding for 4-H Sheep and Goats
 A high-quality sheep and goat feed is essential for raising ruminant animals. This can be supplemented with hay, silage and grains. Before the show, many participants adjust the feed to achieve the ideal weight and maximize performance.
4-H Sheep and Goat Showing Practice
When it's time for the 4-H goat show, your animal must not only look perfect, but they need to act appropriately for the judges. That's why training is such a vital part of preparing goats for show. This applies to sheep too.
Training should begin as soon as the kid or lamb is selected and brought home. The practice establishes a trusting relationship with their owner and teaches them what to expect when it's time for goat-showing day. Be gentle and kind with your animal at all times. Be patient as they learn their role in the showing-goats program. Daily grooming, such as combing and brushing leg hair, helps bond with your lamb or kid. Talk to them while grooming so your voice is a familiar and comforting sound.
Use a training halter to lead the animal around their pen and yard, so they know how to follow your guides. On show day, a show halter is used for an attractive appearance.
Get the animal accustomed to having their legs and feet set and train the goat or sheep to stand with all four legs properly spaced. You'll also need to teach your lamb how to brace as it is the essential posture the animal needs during judging. Bracing is a body position where the animal's head reaches upward while they press their chest against your thigh, making sure all of their legs are set square.
Grooming
Once you know your animal is healthy and has lots of experience with the training, it's time to groom them to perfection. If you want to do well, your animal must look its absolute best when entering the show ring. The correct sheep or goat show supplies will ensure the best possible appearance. Grooming allows the judges to evaluate the animal and dramatically affects your score, so the goat or sheep should be clean and clipped according to breed standards prior to competition.
Besides a good bath and haircut, you'll use a hoof trimmer to shape its hooves. You can use dehorning paste to prevent horn growth on goats while you raise them or, depending on the show requirements, you can also dehorn your goat using a dehorning tool.
Must-Have Sheep and Goat Show Supply List
There are many different types of show equipment and supplies specifically geared toward showing goats or sheep, but these basics apply to both species.
Shampoo
Before the show, you'll want to make sure that your animal is freshly washed. Choose a specially formulated livestock shampoo for great results without irritation and dryness. Whitening shampoo brightens white coats and removes stains. Clean fleece is easier to shear, and it also extends the life of combs and cutters on your shears.
Conditioning Spray
When you're showing sheep and goats, a fresh coat is critical. Sheep and goat conditioning spray moisturizes the animals' hair and hide. You can use it when prepping for the show, but it is also an excellent choice for daily use.
Blow Drier
A blow dryer will help the hair stand up and make clipping easier and will generally help fluff the coat.
Clippers
A pair of variable speed clippers are essential, especially for sheep. In addition to giving them a haircut, they sculpt and shape the animal's fur or wool with precision. Fitting sheep is an essential part of showing sheep.
Blade Lubricant
Clipper blades work more smoothly and last longer if they are properly lubricated. Blade lubricant designed especially for your clippers provides the best results, but a general lubricant such as WD-40 can be used in a pinch.
Fans
Fans are used to keep the animals, especially lambs, cool. The air movement helps them maintain the appropriate temperature.
Extension Cord
An extension cord doesn't seem like an obvious addition to your goat show supply show box until you are assigned a stall far away from the outlets and can't plug in your tools or fan. Add a cell phone charger or auxiliary battery to your bag too.
Show Box
Keeping your show sheep supplies organized and readily accessible will help the preparation for the event go much smoother. Look for sturdy construction, adequate compartment and ease of portability. Hanging brackets reduce the amount of pen space that the box takes up.
Sheep Show Supplies for Fitting
Grooming and preparing 4H sheep for show is called fitting. Preparing goats for show is very similar to readying show sheep, so the supplies needed are almost identical. But while both 4-H sheep and goats need to look their best for the showing, the wool is more involved and requires specialized attention. A grooming kit for sheep is an easy way to obtain most of the show lamb supplies you need in one handy package.
Lifting leg wool is a breeze with a self-cleaning slicker brush. It removes tangles and adds dimension to 4-H sheep wool before the show.
A trimming stand is a key piece of equipment to include in your arsenal of show lamb supplies because it keeps the animal in place and makes shearing easier.
Show day prep requires great attention to the sheep's coat. A fluffer brush is used to increase volume and create an even fluff.
A lamb tube or sheep blanket are coverings that keep the skin protected and tight and help restore skin oils after shearing.
A sheep card is a special brush with metal bristles that is used to straighten the wool so it can be trimmed evenly.
SHOP 4-H Sheep and Goat Supplies
Benefits of Showing Sheep and Goat Showing
Raising animals is a rewarding experience, and preparing for showing goats and sheep is an excellent way for young people to learn about caring for animals. But there are many other positive benefits. 4-H sheep and goat showing teaches:
Responsibility
Respect for animals
Self-confidence
Organization
Patience
Resilience
Independence
Goal-setting
Sportsmanship
Through preparing goats for show, children develop these qualities through experiences rather than instruction and make memories to last a lifetime.
Get Show-Ready With Choice Goat + Show Lamb Supplies
We have all of the goat and sheep show supplies you need for prize-winning results at unbeatable prices, from clippers and fans to show boxes and rope halters. Shop the best sheep and goat show supplies at NRS today!
Contact Us