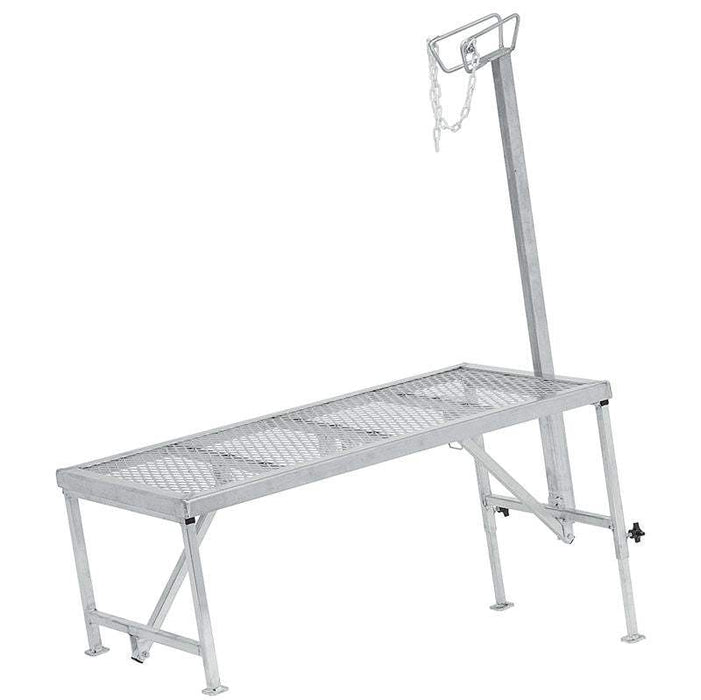 Weaver Leather Complete Trimming Stand with Straight Wire Head Piece
Free shipping not available on this item - Weight: [30.0 ] lbs
Style #: 69-5109
Check Availability In Stores
Easy to transport; stand folds completely flat
A wide pad base on each leg provides extra stability
Adjustable front legs and head piece for ease of trimming
Rounded corners eliminate sharp edges
Three heavy-duty aluminum cross bars support the wire mesh floor
Assembled: 48-1/2" L x 24-1/2" W x 19" H
Collapsed: 48-1/2" L x 24-1/2" W x 5" H
Weight: 25-30 lbs. depending on head piece
Headpieces: 46" L
69-5109
Unlike others on the market, our trimming stands are light enough to carry and durably constructed to handle long days of trimming and clipping. Easy to transport, these stands fold completely flat and feature bolts to help keep the legs secure when carrying. The front and back legs easily fold via strong piano hinges that also help distribute the animal's weight evenly.
A wide pad base on each leg provides extra stability.  Adjustable front legs and head piece for ease of trimming.  Rounded corners eliminate sharp edges.  Three heavy-duty aluminum cross bars support the wire mesh floor.  Assembled: 48-1/2" L x 24-1/2" W x 19" H.  Collapsed: 48-1/2" L x 24-1/2" W x 5" H.  Weight: 25-30 lbs. depending on head piece.  Headpieces: 46" L.
Weaver Leather Livestock's Promise
Over 40 years of manufacturing experience has taught us a thing ortwo about consistently producing products down to thelastdetail.You'll find only the finest materials,skilledAmericanworkmanshipandfinishing touches foryears ofdependableperformance andunparalleledquality that willhave you comingback again and again.
That quality is a part of our heritage, part of our future andendures in our commitment to your success as a showmanandinlife.
QUALITY
What does quality mean to you? To us, it means the finest materials,skilled craftsmanship, innovative design and attentiontodetail.Youcan rest assured that you'll find themall ineachand everyproductyou buy from us. Whenyou chooseWeaverLeatherLivestockproducts,yougetunparalleledquality thatwill haveyou comingback againandagain.That's ourpromiseto you andyour successasa showman.
HERITAGE
Every company started somewhere with big dreams of the future. For morethan 40 years, Weaver Leather has manufacturedqualityproductsdeveloped by professional experts,tested byyouandbacked byour100%satisfactionguarantee. Andit allstartedwith a simplecattle showhalter thatraised thebar and setthe new industrystandard forquality anddetail. That onehalter set thestage foreverything you'llsee on this websiteand isstill afavoritetoday. It's partof ourpast, and wekeep itclose at hand becauseitcontinues toinspirefutureproducts that helpyou besuccessful in thering.
INNOVATION
The dictionary defines innovation as a new idea, device or method.Sounds simple, right? Here at Weaver Leather Livestock,wearealwaysthinking about where the show industryisheaded,whatshowmenneedtoaccomplish theirgoals, andhow we candevelopproducts tomeetthoseneeds andsolveeverydayproblems.That'swhy we relyontheknowledgeofour in-houselivestockexperts,feedback fromprofessionals at thetopof their game,and yes, evenyourown inputon how we can makethingsbetter to changetheface ofcompetition.
COMMITMENT
You don't take showing livestock lightly. Neither do we. It's yourpassion and we're dedicated to helping you be the verybestyoucanbe.That's why we offer only the bestsuppliesbacked byindustryexpertsand years ofexperience. Thelong termsuccessof thelivestockindustry depends onyou, the nextgeneration,and we'redevoted tofueling yourenthusiasmwithonly thefinestproducts andvaluableeducation along the way.