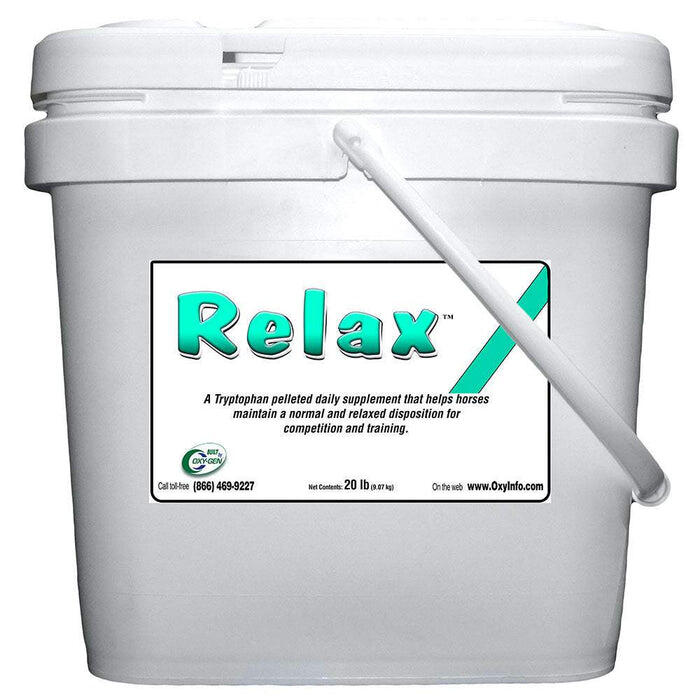 Pozzi's Relax 20lb
Free shipping not available on this item - Weight: [20.0 ] lbs
Style #: 0090920
Oxy-Gen
Daily supplement that helps maintain a normal and relaxed disposition
Tryptophan
Also available in 7.5lb and 100cc paste
20lb (160 feedings)
0090920
Pozzi RELAX™ is available as both a pre-performance and a daily pellet for your Champion horse.
Feeding Directions:
Administer 2 ounces twice per day for seven days. Thereafter, administer 1 ounce twice per head per day. Can be kept at two 2-ounce administrations per head per day for maximum results.
Ingredients:
Ashwagandha- Known to support the body in managing stress or anxiety. Studies have shown this ingredient can regulate chemical signaling in the nervous system and support concentration. It also may act as an anti-inflammatory. This ingredient is a NASC approved ingredient and active testing has been done on equine and canine animals to support its results.
Octacosanol - Used to improve exercise performance including strength, stamina, and reaction time.
Tryptophan - The amino acid precursor for serotonin, a neurotransmitter implicated in sedation, inhibition of aggression, fear and stress.