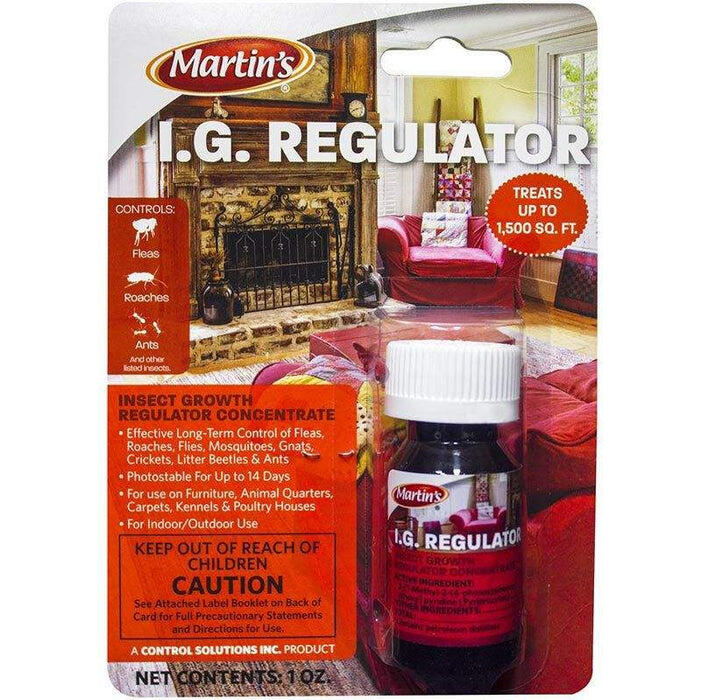 Martin's I.G. Regulator Concentrate 1oz
Style #: 82005201
Check Availability In Stores
Can be mixed with insecticides to kill adult insects and prevent larvae from advancing to adult stages
Can be used on carpets, rugs, furniture, draperies, poultry houses, anim quarters, kennels, doghouses and warehouses
Breaks the life-cycle of fleas, roaches, flies, ants, mosquitoes, gnats, crickets, ticks and litter beetles
Insect growth regulator inhibits reinfestation of fleas for up to seven months
One ounce per gallon of water treats 1,500 square feet
1oz Concentrate
82005201
I.G. Regulator or Insect Growth Regulator inhibits reinfestation of fleas for up to seven months. Inhibits larvae from advancing to adults in fleas, roaches, flies, mosquitoes, gnats, crickets, litter beetles and ants. Can be used on carpets, rugs, furniture, draperies, in poultry houses, animal quarters, kennels, doghouses and warehouses. One ounce per gallon of water treats 1,500 square feet.
Active Ingredients: Pyriproxyfen 1.3%
States Registered: AR, AZ, CA, CO, CT, DC, DE, FL, GA, HI, IA, ID, IL, IN, KS, KY, LA, MA, MD, ME, MI, MN, MO, MS, MT, NC, ND, NE, NH, NJ, NM, NV, NY, OH, OK, OR, PA, RI, SC, SD, TN, TX, UT, VA, VT, WA, WI, WV, WY
The story of Control Solutions, now a partner with ADAMA Consumer&Professional Solutions, began in 1958 when the Boyd familypurchased asmall Pasadena, Texas pest control company.ControlSolutions continued as a family owned business andbuilt on to thecommitment of serving the professional pestcontrol and retailmarkets after the Ford's sale to Roussel.Since that time, CSI hasadded product lines for theIndustrial, Lawn and Garden, AnimalHealth and Biocide markets,and is working with 80 +distributorsserving those markets.Control Solutionsmaintainsrelationships withchemicalmanufacturers worldwide and maintains a ready supply ofproducts in numerousdistribution warehouses across theU.S. Todayour partnership with ADAMA (www.adama.com) multiplies ControlSolutions' agility in continuously adding new products tomeet theneeds of professionals and homeowners.The one constantsince thebeginning in 1958 is our mission focus: toseek outand distributeeffective and economical solutions for ourcustomers.