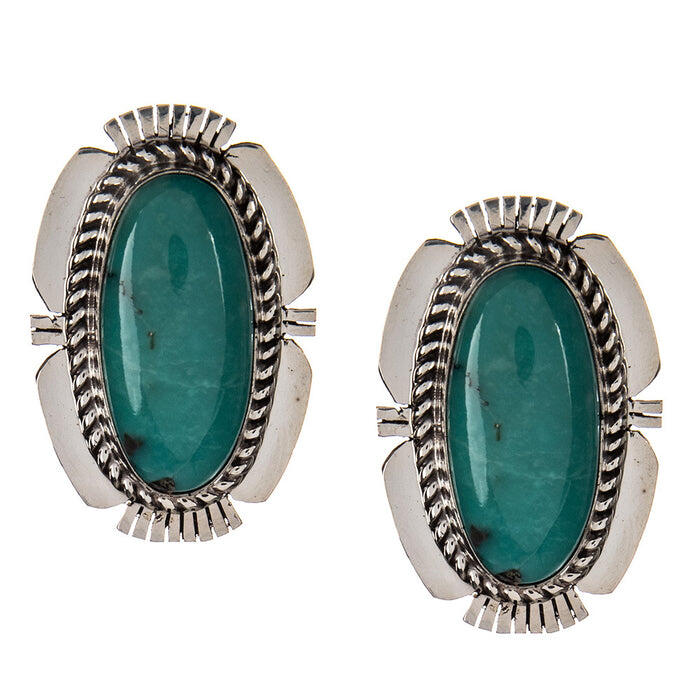 Large Campitos Turquoise Post Earrings
Style #: SW-026-E
Check Availability In Stores
Authentic Handmade Native American Jewelry
Sterling Silver
Turquoise: Campitos Turquoise
Size: 1.5"L x 1"W
Hallmark Stamped
Artist: Eddie Secatero
SW-026-E
Slightly domed Campitos Turquoise cabochons surrounded by traditional twisted wire and deeply notched edges. Handmade by Diné silversmith Eddie Secatero.
Campito is derived from the Spanish word "campo" meaning "field" or"countryside". Mined in Mexico from the Pino Chueco and Cananea mines inSonora, Campitos is a favorite for jewelry artisans. Campitos isuniquein several ways. It grows in clay as free-form nuggets, ratherthan inveins which is typical of many North American turquoises. Itscolorclosely resembles that of Sleeping Beauty Turquoise and rangesfromlight to medium blue with no matrix. Occasionally you may findpyriteinclusions, which give it a little bit of sparkle.
Design Note: Twisted wire metalworking is a very old technique used by manySouthwestern tribes. It can be found in both vintage and modern pieces.