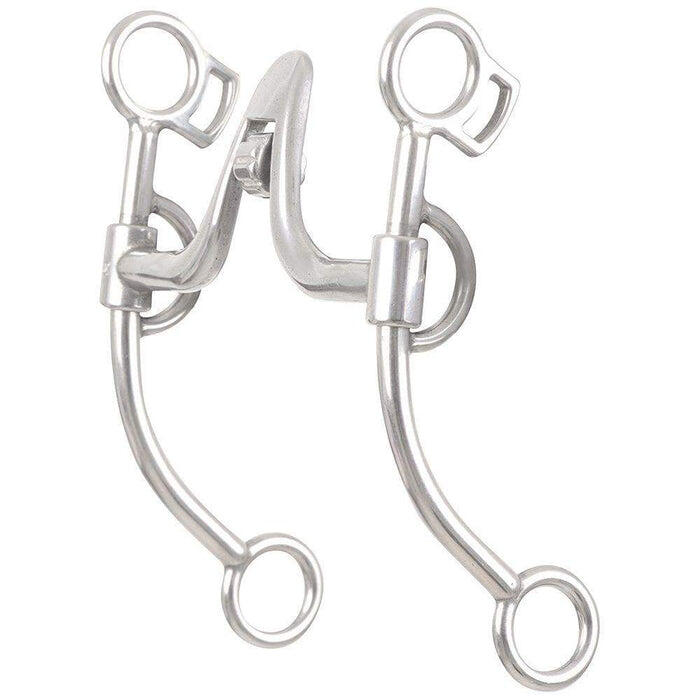 Jim Edwards Turtle Cricket Ported Bit
Style #: JEBC17
Check Availability In Stores
Jim Edwards Bit
Turtle Cricket Ported Bit
Palate Pressure
5 1/2" Fixed Shank
JEBC17
 In performance and showing events, the bit's function is to ask, tell, remind and be sharp only if necessary.  The horse must perform with precision and confidence.  The prettier and more correct the horse and rider can show, the greater the chance of success.
In speed events, the horse needs more protection from the rider's hands.  Timing and cues are perfected in the practice pen.  Atthe time of competition for a speed event, the more efficient thehorse can do his job without interference, the smoother and faster itwill be.

On this palate pressure bit, the shank gives the rider leverage and while combining cues to the roof of their mouth with the edge of their tongue. This type of pressure asks the horse for a response at the roof of their mouth and then reinforces the cue on the edges of the tongue. Palate pressure mouthpieces are over 2" in height and are only recommended in advanced training programs.
The fixed shank offers direct contact and immediate cues. 
 About Jim Edwards
Mastercraftsman JimEdwards of Blum, Texas began creating bits in 1986. Jim grew upranching and pushing yearlings in New Mexico. He had ridden hundreds ofhorses for work, team roping and showing, in addition to those hestarted then rehabilitated and sold. As he gained experience, hebeganto question conventional bridle bits. Because he wasn'tsatisfied withhow his horses reacted to conventional bridle bits, hestartedbuilding and experimenting with his own designs.
Whathe discovered wasthat tongue pressure, pain in the horse's mouth along withinconsistencies in rider's hands, will trigger an array of instinctiveprotection responses. When these instincts kick in, the horse stopsthinking and starts reacting. Reacting to pain instead of relatingtocues can make for a bad day's ride, and over time creates badhabitsthat inhibit the horse's natural athletic ability.
Afteryears of makingbits for professional horsemen and horsewomen in the performancearena, Jim has expanded his line to include bits ideal for ropers andbarrel racers. His line includes non-palate pressure and palatepressure mouthpieces, in both in slider and fixed shanks, as well asrope gag training bridles. Manufacturing Jim Edwards Bits is afamilyaffair, and includes his wife Elaine and son Austin. All bits areproduced in their small shop next to the family home in Texas. Jim'sbits can be found at select equine events, where the Edwards' havesample bits to test ride before you buy.
Jimhas spent much ofhis life gaining an understanding of how a horse thinks. Hisdedication to improving communication and horsemanship has shaped hisbits into what they are today. Many world champion reiners,cutters,and pleasure horse riders have trained and shown in Jim Edwardsbits.