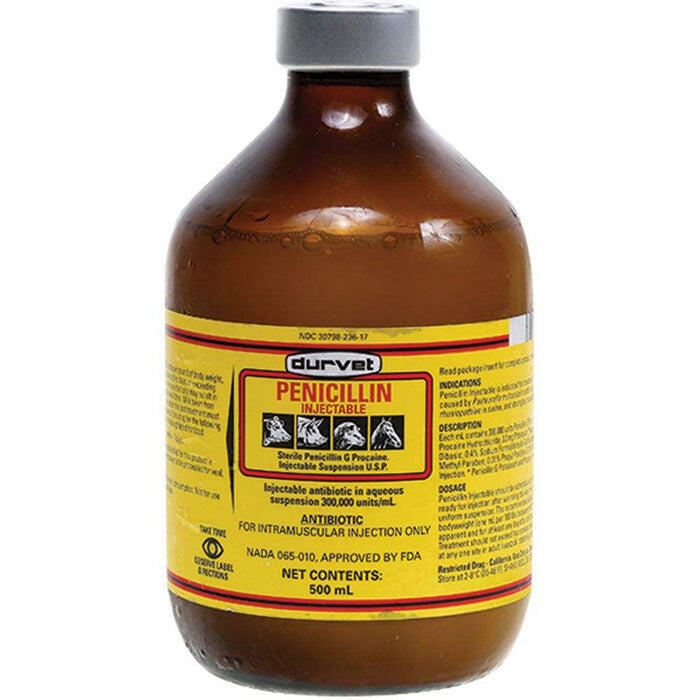 Durvet Penicillin Injectable 500mL
Free shipping not available on this item - Weight: [1.75 ] lbs
Style #: 001-1111602
Check Availability In Stores
This item cannot ship to CA. 
One product for cattle, sheep, swine, and horses
Broad spectrum activity
Fast acting, quickly reaches therapeutic blood levels
Economical and effective
48-hour milk out
For use on Cattle, Horses, Sheep, and Swine
500mL
001-1111602
Penicillin Injectable (Pen-Aqueous) is indicated for the treatment ofpneumonia and shipping fever in cattle and sheep, erysipelas in swine,and strangles in horses.
Each ml of Penicillin Injectable contains 300,000 units of PenicillinG Procaine. Penicillin G Procaine has long been regarded as one of thepremier antibiotics available. It diffuses rapidly throughout theentire body providing quick therapeutic blood levels. While extremelytoxic to bacteria, Penicillin G Procaine is relatively non-toxic toanimals, making this the drug of choice for treating infections anddiseases.
Ingredients:
Each ml contains 300,000 units of Penicillin G Procaine
Durvethas made the commitment to being your premier supplier of high qualityanimal health care products. And, they've taken that commitment one step farther. It has become their mission. They ensure their products and services result in Healthy Animals, Healthy Savings and Healthy Value.