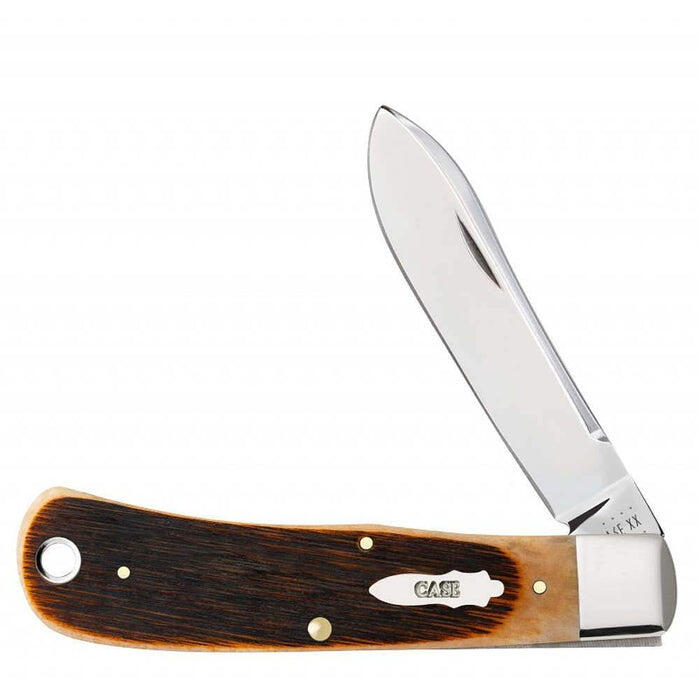 Case XX Sawcut Jig Amber Bone - BackPocket CA17892
Free shipping not available on this item - Weight: [0.0 ] lbs
Style #: CA17892
Check Availability In Stores
Blade Lenght: 3.5in
Closed Length: 4.63in
Blade Material:  Mirror-Polished Tru-Sharp Surgical Steel Blade
Blade Type:  Skinner
Pattern:  BackPocket
Pattern Stamp:  TB615461/2SS
Handle Material:  Amber Bone with Embellished Pocket End Bolster
Handle Finish:  Sawcut Jigged
Lock Type:  Non-Locking (Slip Joint)
Weight:  Approximately 3.6oz
Sheath: Sold Separately
Made in Bradford, PA, USA from domestic and imported materials 

Note: Because Case uses hand-crafting and natural materials your knife may not look exactly as depicted.

Style:  CA17892
The BackPocket hence its name is the perfect knife to fit in your back pocket. This Trapper variation is nearly as big as the Folding Hunter, but more slender for an easy fit. The Clip blade is commonly used as a multi-purpose blade and is preferred for its wide variety of uses. This knife is constructed with Case Tru-Sharp stainless steel which is a special high-carbon steel that helps the blades hold an edge longer than conventional steel. It also offers extraordinary blade strength and corrosion resistance. Comes conveniently packaged in a box. Made in Bradford, PA, USA from domestic and imported materials.
Amber Bone
 The heart of the Case line lies within this classic bone handle, with rich amber and honey tones. The material is procured internationally, rendered from the hearty shin bone of Zebu cattle, a substance tough enough for the rigors of Case knife demands.
Note: Because Case uses hand-crafting and natural materials your knife may not look exactly as depicted.
CA17892