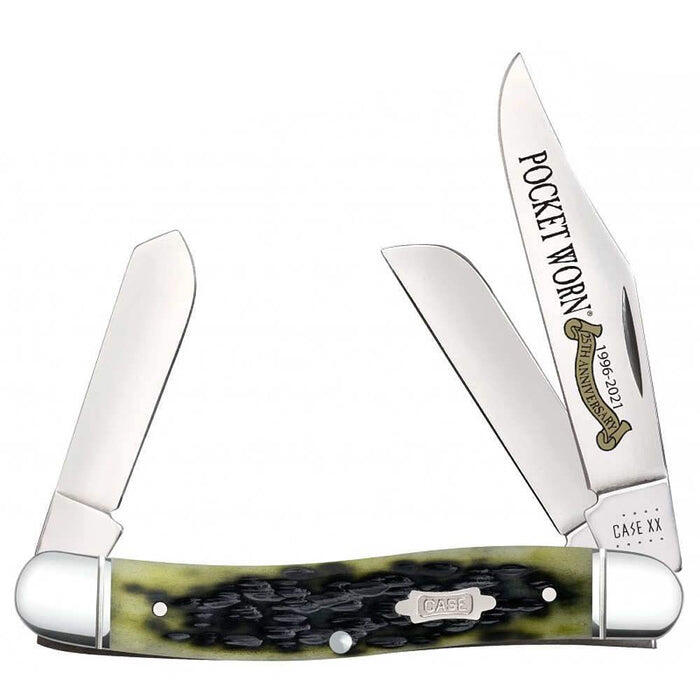 CASE XX Pocket Worn 25th Anniversary Olive Green Bone - Peach Seed Jig Stockman CA38197
Style #: CA38197
Check Availability In Stores
Pattern:  Medium Stockman
Pattern Stamp:  6347 SS
Handle Material:  Pocket Worn Olive Green Bone
Handle Finish:  Jigged
Blade Type:  clip, Sheepfoot, Pen
Blade Length(s):  2.57in, 1.88in, 1.7in
Lock Type:  Non-Locking (Slip Joint)
Blade Material:  Chrome Vanadium
Blade Finish:  Mirror Polished
Closed Length:  3.63in
Weight:  1.7oz
Sheath:  Sold Separately 

Note: Because Case uses hand-crafting and natural materials your knife may not look exactly as depicted.

Made in Bradford, PA, USA from domestic and imported materials.
CA38197
25 Years and Counting. Case knives have always been prized for their quality and detail, but when Case introduced the Pocket Worn finish in 1996, it raised the hand finishing process to a new level. Today your invited to celebrate the 25th anniversary of Pocket Worn Case knives with the new Olive Green Bone series. Eight patterns make up the entire set, available individually or as a commemorative Mint Set (38190) with specially decorated handles, blade serialization and more.
This particular knife, Stockman (CA38197) with clip, sheepfoot, and spey blades.
Clip
The Clip blade is versatile — just the thing for those everyday tasks. With a sharp point, the shape allows for better control of cutting.
Spey
The Spey blade was a vital tool for farmers and ranchers who would use it when castrating livestock. Also a favored tool for skinning game, this all-purpose blade shape is found in many popular knife patterns such as the Trapper.
Sheepfoot
The Sheepfoot blade features a straight edge and a curved back, allowing for greater tip strength and control of the cutting edge with your fingers. Originally designed for trimming sheep's hooves, this blade is ideal for carving and carpentry work.
Note: Because Case uses hand-crafting and natural materials your knife may not look exactly as depicted.
Made in Bradford, PA, USA from domestic and imported materials.
CA38197