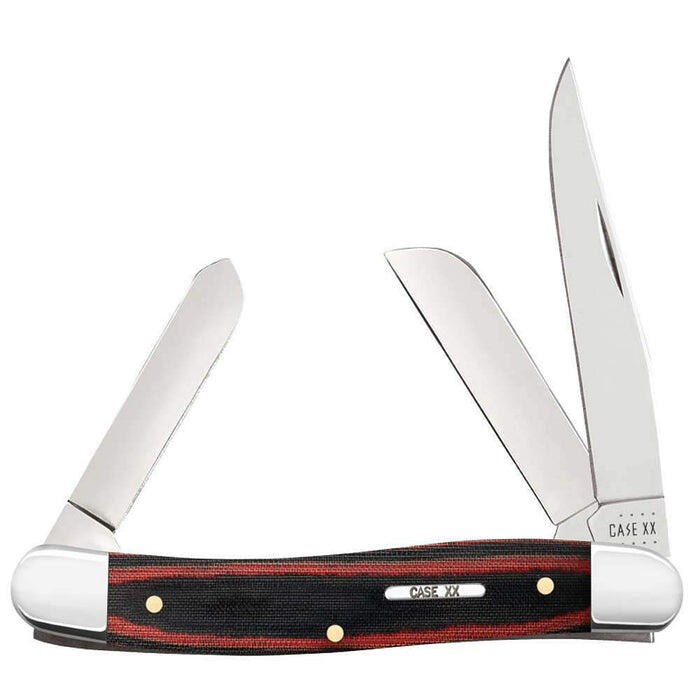 CASE XX Black Red Micarta - Medium Stockman CA27853
Style #: CA27853
Check Availability In Stores
Pattern:  Medium Stockman
Pattern Stamp: 10318 SS
Handle Material:  Black/Red Micarta
Blade Type:  Clip, Spey and Sheepfoot
Blade Lengths:  2.5in, 1.71in and 1.88in
Lock Type:  Non-Locking (slip joint)
Blade Material:  Tru-Sharp Stainless
Blade Finish:  Mirror-Polished
Closed Length:  3.63in
Weight: 2.5oz
Sheath:  Sold Separately
Made in Bradford, PA, USA from domestic and imported materials

Note: Because Case uses hand-crafting and natural materials your knife may not look exactly as depicted.

STYLE:  CA27853
Not just any name. Micarta is the name originally given to this high-tech material by George Westinghouse, the famous pioneer in electrical engineering. The black and red colors pay tribute to the countless industries into which Micarta has found its way; from aerospace to construction to railroads and even medical devices. And it can easily handle the rigors of everyday use as your next Case knife, too. 
Clip
The Clip blade is versatile — just the thing for those everyday tasks. With a sharp point, the shape allows for better control of cutting.
Spey
The Spey blade was a vital tool for farmers and ranchers who would use it when castrating livestock. Also a favored tool for skinning game, this all-purpose blade shape is found in many popular knife patterns such as the Trapper.
Sheepfoot
The Sheepfoot blade features a straight edge and a curved back, allowing for greater tip strength and control of the cutting edge with your fingers. Originally designed for trimming sheep's hooves, this blade is ideal for carving and carpentry work.
Made in Bradford, PA, USA from domestic and imported materials. 
Note: Because Case uses hand-crafting and natural materials your knife may not look exactly as depicted.
STYLE:  CA27853