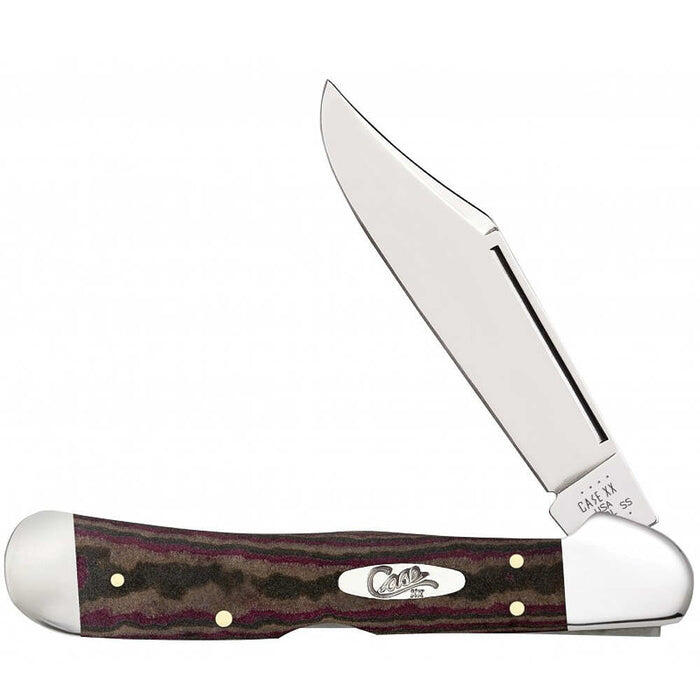 Case Knives Rustic Red Richlite Copperlock CA13624
Style #: CA13624
Check Availability In Stores
Case Knives Rustic Red Richlite Copperlock (101549LSS) CA13624
Model:CopperLock
Handle Material:Richlite
Closed Length 4.25"
Blade:Clip Blade
Type: Tru-Sharp Surgical Steel
Blade Finish:Mirror Polish
Locking Mechanism:Lock Back
Weight:2.8 oz
Note: Because Case uses hand-crafting and natural materials your knife may not look exactly as depicted.
From the Case 2021 Spring Supplement regarding Richlite:
Launched in 1943 in the Pacific Northwest, Richlite was originally used in the aerospace industry. Later, this paper-composite material was adopted by many diverse commercial industries - everything from furniture and cabinetry to mobile phone cases and even skateparks - because its ease of machining, durability and water-resistant construction.
This knife is constructed with Case Tru-Sharp stainless steel which is a special high-carbon steel that helps the blades hold an edge longer than conventional steel. It also offers extraordinary blade strength and corrosion resistance.
The Clip blade is versatile — just the thing for those everyday tasks. With a sharp point, the shape allows for better control of cutting.Made in Bradford, PA, USA from domestic and imported materials. CA13624