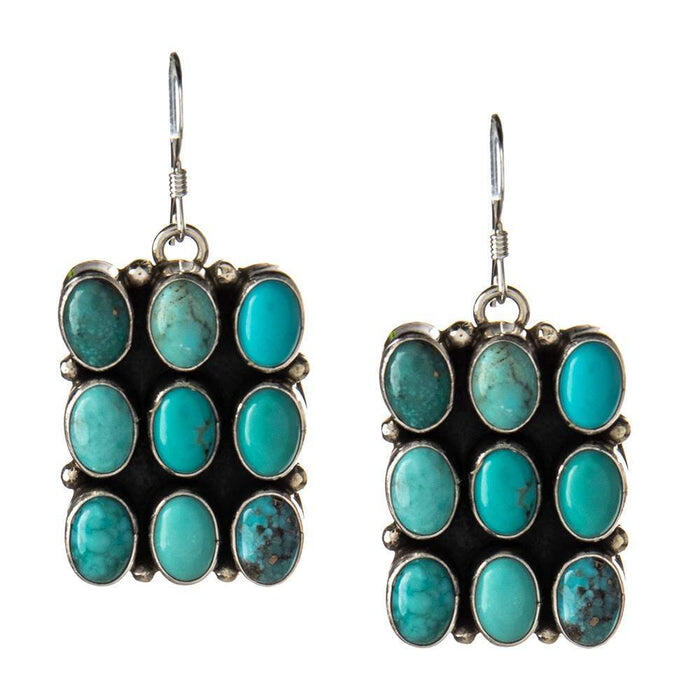 Campitos Turquoise Cluster Earrings
Style #: SW-030-E
Authentic Handmade Native American Jewelry
Sterling Silver
Turquoise: Campitos Turquoise
Size: 1"L x .75"W
Hallmark Stamped
Artist: Renell Perry
SW-030-E
Mined in Mexico from the Pino Chueco and Cananea mines in Sonora, Campitos Turquoise was mined extensively in ancient times, with evidence of trade with Native American peoples. Campitos is unique in several ways. It grows in clay as free-form nuggets, rather than as veins which are typical of many North American turquoises. Its color is said to most closely resemble Sleeping Beauty Turquoise, and ranges from a light to medium blue with no matrix, and occasionally pyrite inclusions, giving it a bit of sparkle. A lovely, hard stone with beautiful color, Campitos is a favorite for jewelry artisans. The mine as we know it today has been producing since the 1980's. Campito in Spanish is a derivative of the word "campo", meaning "field" or "countryside".
Design Note: Seen frequently throughout Native American jewelry, Sterling Silver "raindrops" are a traditional design element. They can be smooth and high polished or they can be starlike and oxidized.
Used for many generations this style of arranging stones is common within Native jewelry. Clusters are typically arranged in a sunburst or "flower" pattern with smaller, evenly spaced stones encircling a larger center stone. However, clusters can also be random, showcasing the stone's natural shapes.