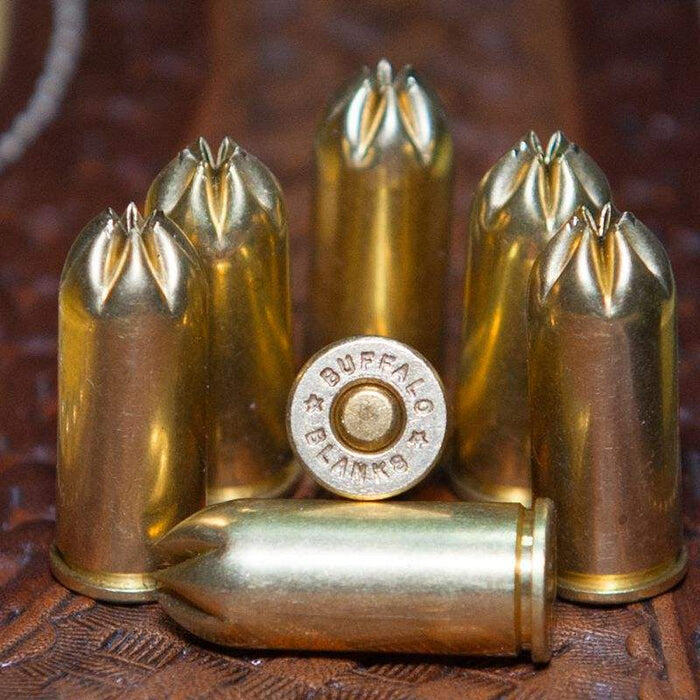 Buffalo Blanks Mounted Shooting Competition Pistol Blanks - Package of 100
Style #: BB-CB
Check Availability In Stores
Buffalo Blanks
.45 Colt Pistol Blanks
CMSA Certified
Package of 100
BB-CB
Buffalo Blanks "This Ain't The Same Old Blast From The Past"
Buffalo Blanks Mounted Shooting Competition Pistol Blanks. Buffalo Blank brass is made specially for us by Starline Brass and features the Buffalo Blanks brand head stamp. Our unique brass design insures your blanks load easy and most importantly come out of the cylinder easy after they have been fired. Each blank is made with a special blend of Goex Black Powder providing a consistent pattern, burn and reach. Winchester primers are used to provide a reliable and proven ignition every time. Buffalo Blanks are made by mounted shooters for mounted shooters! They are tested carefully and used by many of the top Mounted Shooting organizations and clubs in the country. It is hard to improve upon the technology available to create an effective and consistent mounted shooting blank, but at Buffalo Blanks we strive to use the best technology with only the best and most reliable components. Buffalo Blanks are CMSA Certified #62 and MSA Certified #15.
We are proud to offer you to our high quality .45 caliber Cowboy Mounted Shooting Blank Ammunition. We manufacture Competition Blanks, Training Blanks and Rifle Blanks. We know that you will like them because we know what you want--we are cowboy mounted shooters too and we have made more than a million of our proven blanks with the best materials on the market since 2006. Buffalo Blanks also prides itself in manufacturing and providing mounted shooting supplies.
Your World For All Things Western