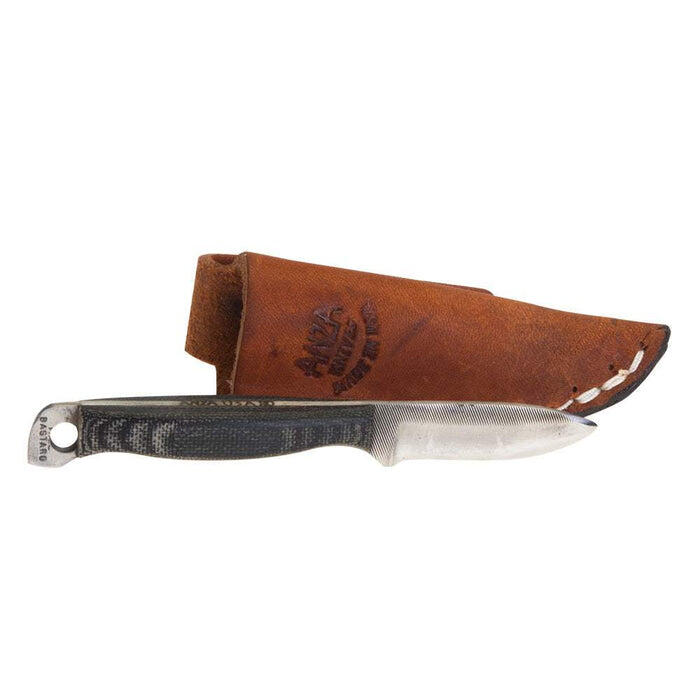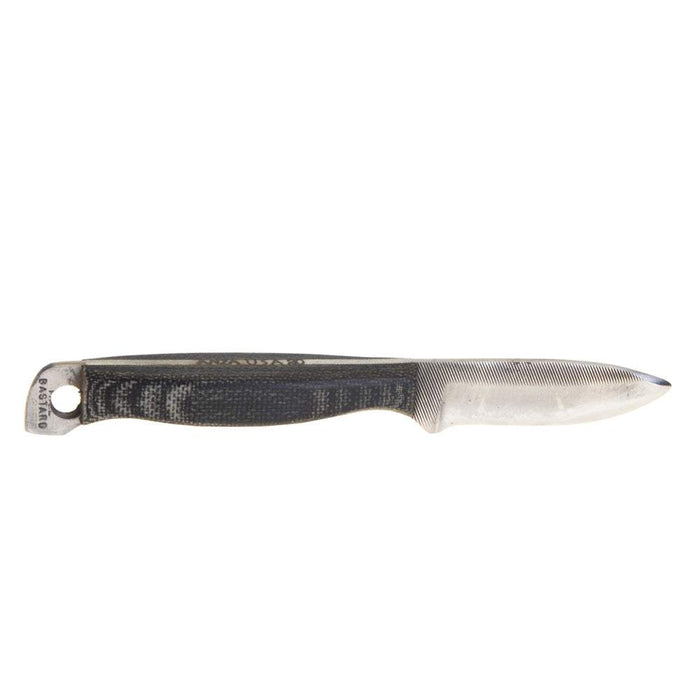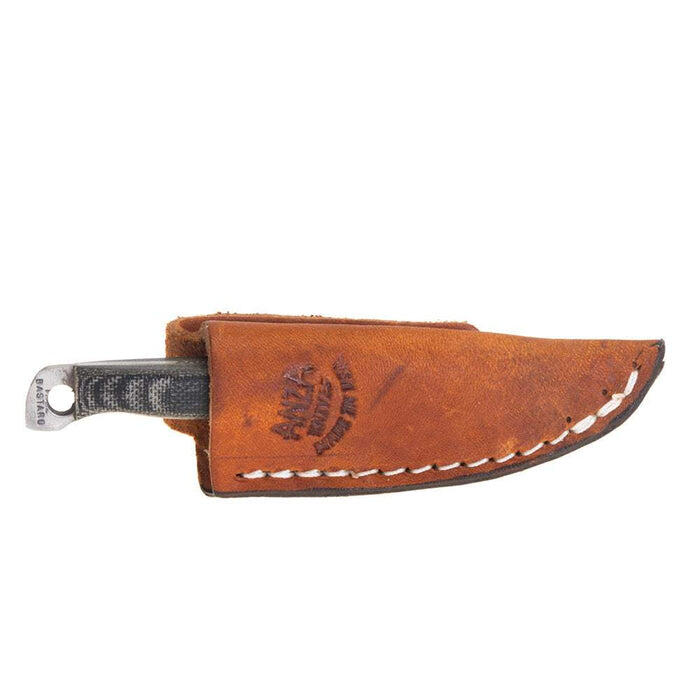 Anza Knives (MM-4) Tiny Boddington Micarta Handle Blk MM-4-TINYBODDINGTON-BK
Style #: MM-4-TINYBODDINGTON-BK
Made from a 6in file
Blade Length:  Approximately 1.75in
Overall Length:  Approximately 5in
Handle:  Micarta Black with lanyard hole
Sheath:  leather mini vertical
Anza Model: 988
Made in the USA!
Style:  MM-4-TINYBODDINGTON-BK
 Built for the collector, priced for the sportsman, used by the working man! 
Since the start of Anza, it has been committed to providing top handmade affordable knives for the sportsman and collector. Charlie Davis, owner of Anza Knives, has over 50 years experience making knives and founded ANZA in 1980. Our knives are so sharp and hold an edge for so long that they have become a favorite among guides, outfitters, hunters, backpackers, and fishermen as well as a utility knife by the "workingman". Anza Knives are completely handmade, each one different in its own way. Model: 988 Made in the USA!   
MATERIAL:   Anza chooses to make their knives from files because a file is an excellent source of high carbon tool steel. Through a process called annealing, we remove the brittleness normally found in a file. The knives are then hand ground to shape, a handle is then added (various materials include micarta, elk, wood, etc.), and final finishing, polishing and sharpening are then completed. The final result is a beautifully made knife that will both hold an edge and sharpen easily. All Anza knives are made from high carbon file steel and will darken with age. The advantage of high carbon steel is that it holds a sharp edge very well and is easier to sharpen than comparable stainless blades. Drill bits are typically made from high carbon steel for this reason. All Anza Knives are heat treated to add strength for long life. Fillet knives are made from 1095 SPRING STEEL for flexibility. All knives are shaped and designed from 6″, 8″, 10″, 12″ or 14" files.
WORKMANSHIP: All Anza Knives are made from start to finish completely by hand with the use of belt sanders, grinders, and other shop tools for material preparation. It takes years of experience to master all steps involved to complete a knife start to finish with our techniques. No two knives are exactly the same due to this handmade process. All knives are 'full tang'. In a full tang knife, the tang extends completely through the knife's handle, and the edge of the tang is completely visible around the perimeter of the handle. The tang is acid etched 'ANZA USA (2-digit year) – i.e. 'ANZA USA 20′  Care instructions included with each knife.