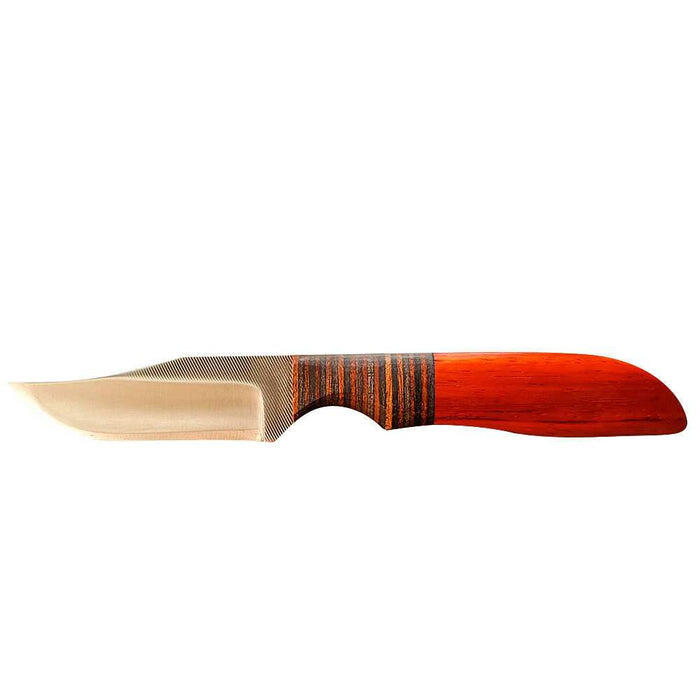 Anza Knives (213) WK-2-V Fixed Blade Coffee Padauk w/Sheath (80-61) 213WK-2-V-COFFEE-PADAUK
Style #: 213WK-2-V-COFFEE-PADAUK
Check Availability In Stores
Made from 10" File
Blade Length Approximately:  2.75in
Blade Material: High Carbon Steel
Blade:  Clip Point, Fixed, Satin Finish
Overall Approximate Length:   6.5in
Handle: Padauk Wood
Anza No.3 Leather Vertical Sheath
Made in the USA!
Anza Model 80-61
Style:  213WK-2-V-COFFEE-PADAUK
 Built for the collector, priced for the sportsman, used by the working man! 
Since the start of Anza, it has been committed to providing top handmade affordable knives for the sportsman and collector. Charlie Davis, owner of Anza Knives, has over 50 years experience making knives and founded ANZA in 1980. Our knives are so sharp and hold an edge for so long that they have become a favorite among guides, outfitters, hunters, backpackers, and fishermen as well as a utility knife by the "workingman". Anza Knives are completely handmade, each one different in its own way. Model: 80-61     Made in the USA!   
Anza knives offer rugged fixed blade knives that are handmade in the USA. Each of their knives are shaped and designed from an annealed steel file with a polished, cold ground edge. This innovative process provides a strong, durable blade edge that is perfect for camping, hiking, fishing and general utility cutting chores.
Style: 213WK-2-V-COFFEE-PADAUK